Powder packaging machine industry has great potential development
The small-dose packaging which sold in the market is completed by the powder packaging machine, and users can set the packaging weight according to their needs. Of course, in order to become user's best choice of powder packaging equipment, these functions are far from enough, our packaging machine technology still need an unlimited improvement, unlimited expansion of the application range, to achieve a higher leap.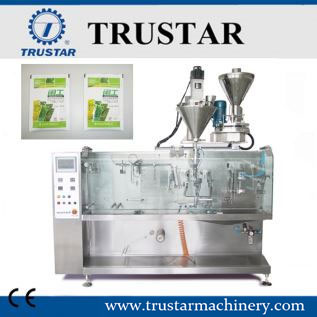 What can we learn from the market, now the product packaging has become one of the key factors of commodity sales .It's really reasonable to place the packing machine equipment in a important status. The promotion of the status, accelerate the development of the packaging industry, powder packaging machine as one of them also improve their own strength by hard working, the function will be more perfect.
The progress of science and technology lead the continuous development of Packaging machinery industry. Powder packaging machine with its excellent production packaging technology in the packaging market has repeatedly achieved success.
Powder packaging machine is a commodity packaging machinery which developed for powder objects.With Simple, automatic and intelligent operation,it reduces a lot of procedures in the work, also reduce a lot of production costs. Which really get more users' recognition.
The application field of Powder packaging machine is very broad, the development potential is unlimited.With the application of the latest production technology and materials,our powder packaging machine make a great progress.Our machine is widely used for packing powder, granules, liquids, paste,nuts and so on with various shaped pouch.